2023
Contributions to the drug development program for Nitrobenzothiazinone BTZ-043– Leibniz Drug of the Year 2023
Nitrobenzothiazinones (BTZs) are a very effective class of antibiotics against Mycobacterium tuberculosis, including resistant strains. This year, Sina Gerbach, Freddy Bernal and Florian Kloß from Leibniz-HKI were honored with the award "Leibniz Drug of the Year 2023" for their contributions to the drug development program for BTZ-043. The compound was discovered at Leibniz-HKI and has successfully passed clinical phase IIa and is currently being prepared for combination studies (IIb) to develop a new therapy against tuberculosis that is superior to SoC. BTZ-043 marks a breakthrough in the current antibiotic crisis: it is the first completely new tuberculosis antibiotic in decades. Moreover, it was developed in a purely academic collaboration and thus shows a possible model to overcome this crisis. The fact that this is being done in a Leibniz Institute shows the potential of publicly funded research institutions to make an effective contribution to overcome the world's empty antibiotic development pipelines, in line with the Leibniz motto Theoria cum praxi. Having filed three patents and several groundbreaking publications, the focus has since been on the development of the molecule into a drug, which naturally does not lead to major scientific publications. However, the clinical trials are registered online as is foreseen in a clinical development programme.
A Phase I clinical trial (first-in-men and first-in-class) in healthy volunteers conducted in Germany had shown good tolerability of BTZ-043. The subsequent Phase II clinical study in tuberculosis patients in Cape Town, South Africa, confirmed BTZ-043 as safe and effective -a major step in the development of a new drug. It has now become tangible that BTZ-043 could replace one of the conventional, often resistance-prone antibiotics in a combination therapy and significantly shorten the treatment duration of tuberculosis. Absorption, elimination and pharmacokinetics of all relevant metabolites of radioactively labeled 14C-BTZ-043 was shown in a third clinical study on healthy volunteers in Groningen, The Netherlands. The drug development team headed by Dr. Florian Kloß at Leibniz-HKI contributed its expertise in both drug development management, Chemistry Manufacturing and Controls and Bioanalytics, while the competencies at the University Hospital of the LMU (Munich) lay in the planning and execution of preclinical and clinical studies.
Patents:
New thiazinone derivatives and their use as antituberculosis agents. WO2007134625A1
New antimicrobial compounds, their synthesis and their use for treatment of mammalian infections. WO2009010163A1
New antimicrobial compounds, their use for the treatment of mammalian infections and a new metabolic mechanism. WO2018055048A1
Original publications:
Schieferdecker S, Bernal FA, Wojtas KP, Keiff F, Li Y, Dahse HM, Kloss F (2022) Development of predictive classification models for whole cell antimycobacterial activity of benzothiazinones. J Med Chem 65(9), 6748-6763.
Kloss F, Krchnak V, Krchnakova A, Schieferdecker S, Dreisbach J, Krone V, Möllmann U, Hoelscher M, Miller MJ (2017) In Vivo dearomatization of the potent antituberculosis agent BTZ-043 via Meisenheimer complex formation. Angew Chem Int Ed 56(8), 2187-2191.
---
2022
new mechanism of action for a group of




already known anti-inflammatory peptides

– Leibniz Drug of the Year 2022
The new discovery is not a new substance, but the description of a completely new mechanism of action for a group of already known anti-inflammatory peptides. The new model may be so far-reaching that it applies not only to bacterial infections and to peptides, but may also be applicable to other disease patterns.
Antibiotics resistances among clinically relevant bacteria present an increasing threat and raises the urgent need for new compounds. In Gram-negative infections, killing of bacteria by antimicrobials is accompanied by the release of lipopolysaccharide (LPS), an endotoxin that causes severe hyperinflammation and pathology. Beside a number of different classical antibiotics, antimicrobial peptides (AMPs) and peptide antibiotics are potent membrane-active molecules and valuable prototypes for drug development. These peptides do not only kill bacteria but they also have the potency to neutralize the endotoxin and other pathogenicity factors. By molecular resolution of the processes at membrane surfaces using high-resolution methods at FZB, and synchrotron radiation technologies at the DESY, EMBL and CSSB, we demonstrate how two medical relevant peptides, the cathelicidin LL-32 and polymyxin B, disarm endotoxins. One pathway is based on direct peptide-LPS interaction. The binding neutralizes charges of the LPS which are important for the interaction with receptor proteins and furthermore the supramolecular structure of the LPS-aggregates is modified leading from an agonistic to an antagonistic conformation. In addition, our studies reveal a completely novel mechanism of peptide-mediated immune control. By acting on signaling domains of the immune cell membrane, the inflammatory response of the cells is specifically suppressed, a finding that now opens up new options for host-directed therapy in hyper-inflammation diseases. In an international collaboration with colleagues from Graz, Vienna, and Pamplona we characterized the underlying mechanisms in reconstituted membrane mimetics and immune cells, single molecule in vitro experiments, and in vivo mouse experiments. We could show that the membrane active peptides modify the size and mobility of cholesterol-rich domains also called lipid rafts. Our results significantly enhance our understanding of how peptide antibiotics can regulate inflammation and will be important for their development and therapeutic use.
Original publication: Schromm AB, Paulowski L, Kaconis Y, Kopp F, Koistinen M, Donoghue A, Keese S, Nehls C, Wernecke J, Garidel P, Sevcsik E, Lohner K, Sanchez-Gomez S, Martinez-de-Tejada G, Brandenburg K, Brameshuber M, Schütz GJ, Andrä J, Gutsmann T. Cathelicidin and PMB neutralize endotoxins by multifactorial mechanisms including LPS interaction and targeting of host cell membranes. Proc Natl Acad Sci U S A. 2021 Jul 6;118(27).
photo copyright: FZB Borstel
2021
Mycofactocin is Leibniz Drug of the Year 2021
The research team of Dr. Gerald Lackner at the Leibniz Institute for Natural Product Research and Infection Biology (HKI) was honored for their discovery of mycofactocin, a novel redox cofactor vital for alcohol metabolism of Mycobacteria
including the causative agent of tuberculosis. Biosynthetically, mycofactocins are a group of ribosomally synthesized and post-translationally modified peptides (RiPPs) showing an unusual oligoglycosylation on a tyrosine residue. As redox coenzymes, they exist in an oxidized (mycofactocinones) and a reduced form (mycofactocinols).
The discovery was a breakthrough and received considerable attention from the scientific community in the fields of microbiology, enzyme biochemistry, metabolomics, and natural product discovery. The paper was published in the flagship journal of the Royal Chemical Society, Chemical Science. The biosynthetic pathway is already listed in
the BioCyc database of metabolic pathways.
Original publication: Pe˜na-Ortiz L, Grac AP, Guo H, Braga D, Köllner TG, Regestein L, Beemelmanns C, Lackner G (2020) Structure elucidation of the redox cofactor mycofactocin reveals oligo-glycosylation by MftF. Chemical Science 2020, 11, 5182.
---
2020
Malleicyprols are Leibniz Drug of the Year 2020
The prize Leibniz Drug of the Year 2020 was awarded for the discovery of malleicyprols. Award winners are Felix Trottmann, Ingrid Richter, Keishi Ishida, Lars Regestein and Prof. Christian Hertweck from the Leibniz Institute for Natural Product Research and Infection Biology – Hans Knöll Institute (HKI) in Jena.
Malleicyprols are novel and unparalleled bacterial cyclopropanol-containing polyketides, which are responsible for severe infections in humans and animals. The research team headed by Prof. Christian Hertweck has discovered malleicyprols as previously unknown virulence factors produced by gram-negative bacteria belonging to the genus Burkholderia. The closely related Burkholderia mallei and B. pseudomallei are bacterial pathogens causing two re-emerging infectious diseases with high lethality in humans and animals (glanders and melioidosis). Treatment options with antibiotics are limited, due to resistances, or take several months. These diseases are therefore seen as a growing threat to global health. Moreover, both species have been classified as potential biological warfare agents. The Jena team of scientists activated a gene cluster, the bur/mal gene loci encoding a polyketide synthase, highly conserved in the genomes of all bacteria of the pathogenic B. pseudomallei group. They identified burkholderic acid as a product of the encoded biosynthetic pathway, which is correlated with virulence in animals. However, burkholderic acid was not virulent in cytotoxicity tests and in an infection model of the nematode C. elegans. Therefore, the team investigated the bacterial biosynthesis machinery of the low-pathogenicity model organism B. thailandensis. By metabolic profiling and molecular network analysis they discovered the actual virulence factors, called malleicyprols.
This new finding will lead to a better understanding of the molecular basis of glanders and melioidosis and may facilitate the development of urgently needed therapeutics to combat these severe diseases. The discovery of malleicyprols was published in Angewandte Chemie International Edition and has been awarded the VIP status ("very important paper").
Original publication: Trottmann F, Franke J, Richter I, Ishida K, Cyrulies M, Dahse HM, Regestein L, Hertweck C (2019) Cyclopropanol warhead in malleicyprol confers virulence of human- and animal-pathogenic Burkholderia species. Angew Chem Int Ed 58(40), 14129-14133.
---
2019
Gramibactin is Leibniz Drug of the Year 2019
The newly discovered substance Gramibactin was awarded the title "Leibniz Drug of the Year 2019". The research team of Professor Christian Hertweck at the Leibniz Institute for Natural Product Research and Infection Biology (HKI) was honored on 1. April at the Leibniz-Wirkstofftage at the German Hygiene Museum in Dresden. The bacterial molecule Gramibactin is very important for food production: it allows plants to absorb more iron from the soil. The increased intake of iron promotes the growth of plants and thus leads to higher yields.
Original publication: Hermenau R, Ishida K, Gama S, Hoffmann B, Pfeifer-Leeg M, Plass W, Mohr JF, Wichard T, Saluz HP, Hertweck C (2018) Gramibactin is a bacterial siderophore with a diazeniumdiolate ligand system. Nature Chemical Biology 14, 841-843.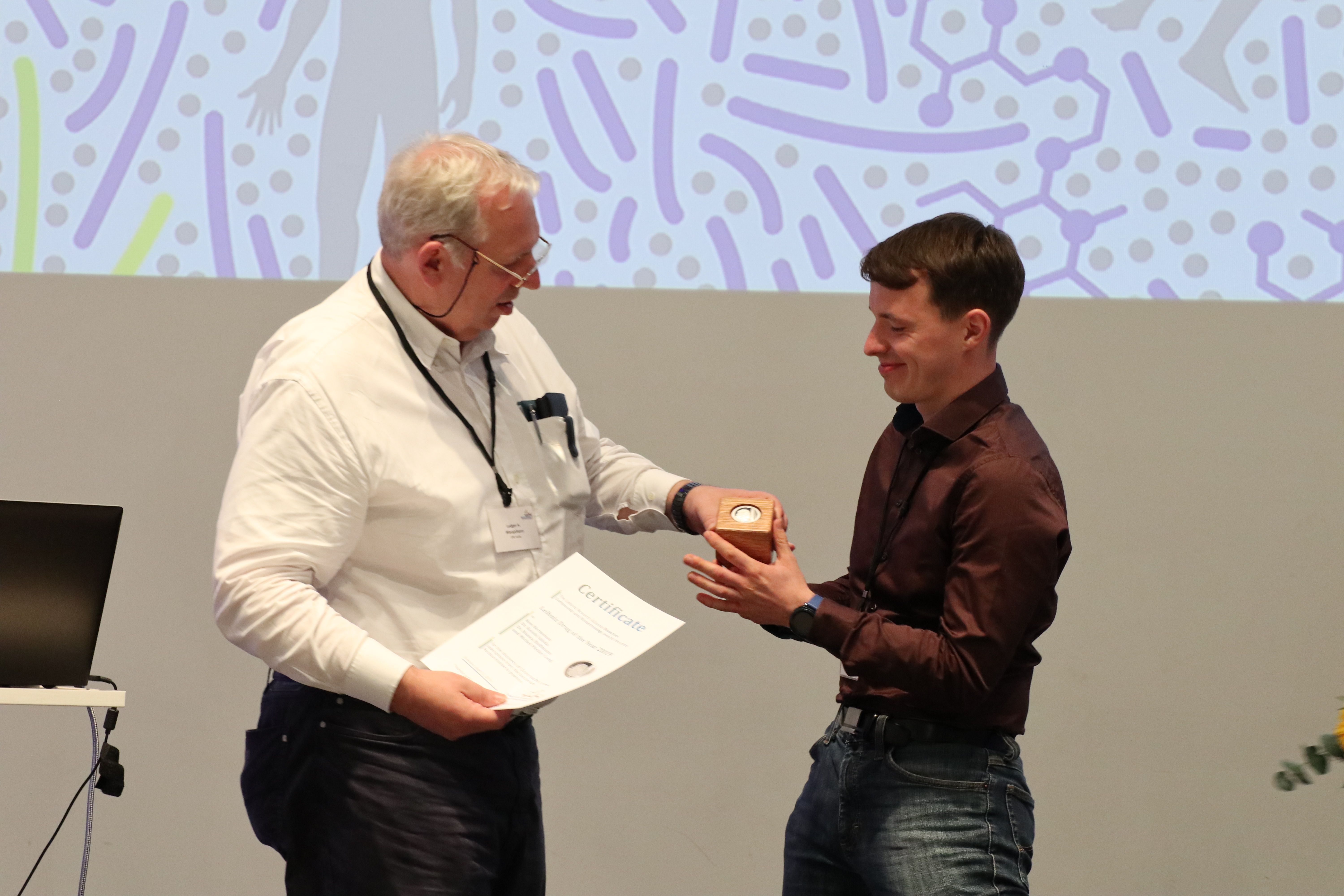 ---
2018
Balansins A and B are Leibniz Drugs of the Year 2018
The prize Leibniz Drug of the Year 2018 was awarded for the discovery of Balansins A and B. Award winners are Prof. Ludger Wessjohann (discoverer), Dr. Silke Pienkny, Dr. Andrea Porzel from the IPB, and Prof. Wolfgang Meyerhof, Dr. Juliane Bojahr and Dr. Anne Brockhoff from the DIfE (German Institute for Human Nutrition Potsdam-Rehbrücke) as Leibniz researchers. Aditionally scientists from Vietnam, Prof. Tran Van Sung, Dr. The Anh Nguyen, Dr. Ngo Van Trai, and from Symrise AG, Dr. Jakob Ley, Dr. Katharina V. Reichelt, Katja Obst, were involved in the discovery process.
Balansins A and B are new sweeteners derived from the Vietnamese plant Mycetia balansae. They have a structure and taste profile that differs from stevia or licorice terpene glycosides. The invention relates to the use of these sweeteners, preferably an extract of Mycetia balansae, to produce a sweet impression or enhance sweet taste. After original discovery, the compounds were characterized for their chemical and receptor profile in a cooperation of IPB and DIfE, two members of the Leibniz research alliance on bioactive compounds and biotechnology.
---
2017
Candidalysin is the Leibniz Drug of the Year 2017
In 2017 the commitee awarded four scientists from two Leibniz Insitutes the prize Leibniz Drug of the Year: Dr. Duncan Wilson (HKI), Dr. Selene Mogavero (HKI), Prof. Thomas Gutsmann (FZB) and Prof. Bernhard Hube (HKI) from Leibniz Institute for Natural Product Research and Infection Biology – Hans Knoell Institute Jena (HKI) and Research Center Borstel Leibniz-Center for Medicine and Biosciences (FZB). Their group was involved in the discovery of the novel fungal cytolytic peptide toxin Candidalysin. According to the committee, this work is of high importance for future clinical development of antimycotics.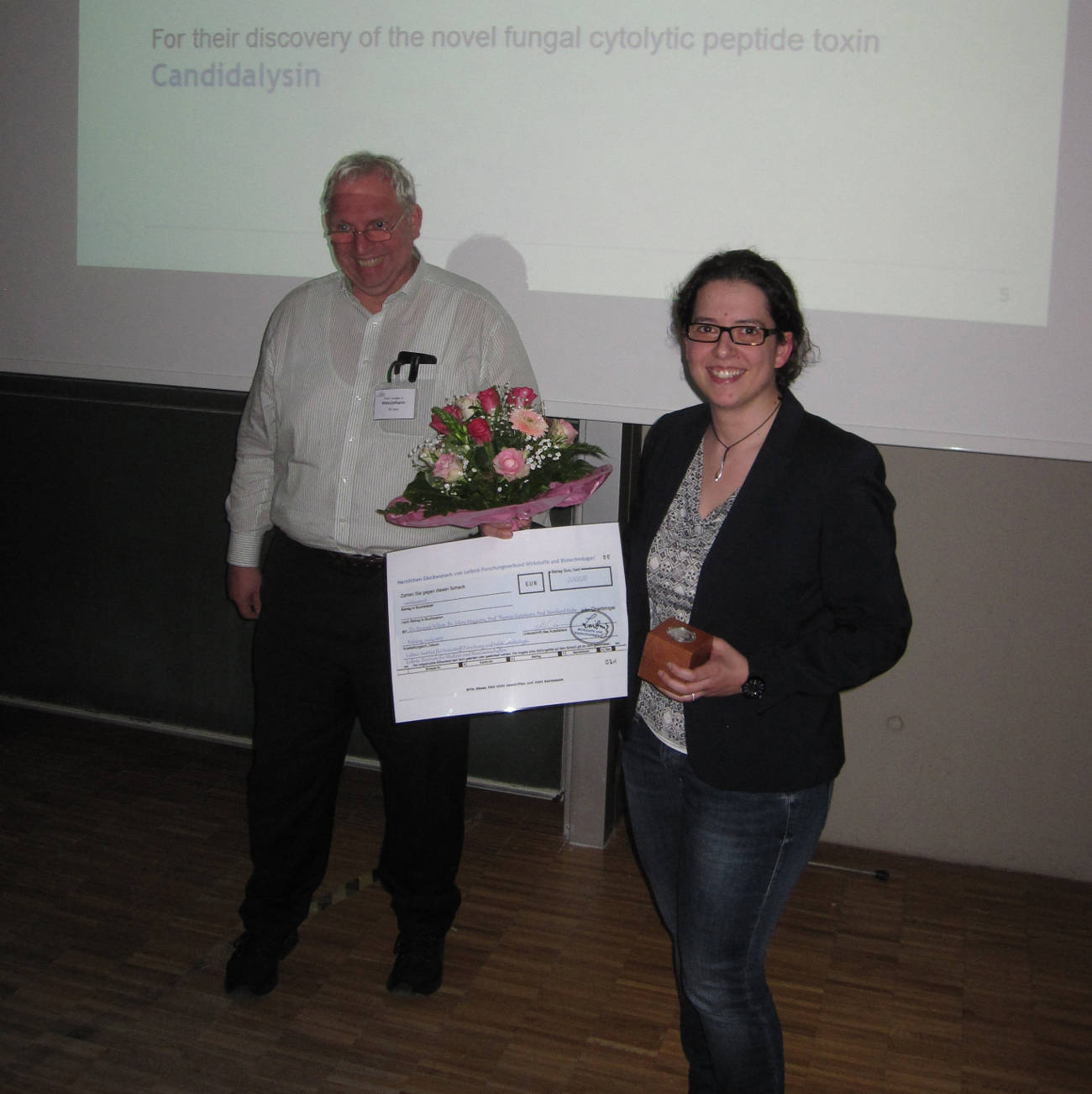 ---
2016
Clostrubin and tubugis are Leibniz Drugs of the Year 2016
Since 2014, the "Leibniz Drug of the Year" Award is conferred annually for those, within the Leibniz Association, who developed the most prominent bioactive compound. The commission of the Award found this year two contributions as extremely important for the drug development. Therefore, for the Leibniz Drug of the Year 2016 awarded are teams from Hans Knöll Institute Jena (HKI) and Leibniz Institute of Plant Biochemistry (IPB).
Dr. K. Ishida, Dr. S. Pidot and G. Shabuer (HKI) received award for excellent scientific results achieved for the research of the novel natural product clostrubin. They demonstrated that the clostrubin biosynthetic pathway is essential for the anaerobe to enter an oxygen-rich world (for more information see: Science 2015, 350, 670; Angew. Chem. Int. Ed. 2014, 53, 7856). The discovery of clostrubins will have a major impact on various areas of research, including molecular microbiology, natural product research, crop protection, and infection biology.
Prof. Dr. L. A. Wessjohann, Dr. A. Porzel, Dr. O. Pando, S. Stark, R. Kufka and A. Denkert (IPB) were awarded for excellent scientific results achieved in the research area of the bioactive agents tubugis. This group reported on the first synthesis of natural product tubulysin analogues "tubugis" by means of a combination of three different types of isonitrile based multicomponent reactions in a concise and convergent manner (for more information see: J. Am. Chem. Soc. 2011, 133, 7692). The new cytotoxic tubugis show GI50 values in the low picomolar range. The present findings will encourage further investigations on the application or development of new (combinations of) MCRs as a powerful means for the synthesis of complex natural products and related compounds.
---
2015
A group from the Leibniz Institut für Molekulare Pharmakologie im Forschungsverbund Berlin e.V. (FMP): Margitta Dathe, Heike Nikolenko and Katrin Jordan was awarded with the Leibniz Drug of the Year 2015 for the work on the recombinant human transglutaminase 1 (rhTH1) encapsulated into liposomes. Development of rhTH1 addresses a disease for which there is an acute need for treatment. This disease, autosomal recessive congenital ichthyosis (ARCI), is a genetic disorder that manifests itself in severe, highly visible skin dysfunction starting at newborn age and affecting patients for their entire lifes. rhTH1 is designed as replacement therapy to substitute the enzyme that is not expressed in ARCI patients. Currently, no drug is available for causative treatment of ARCI, and rhTH1 could therefore be the first of its kind. rhTH1 was developed in a highly successful collaboration and proceeded to an advanced stage for which the data suggest significant potential to enter the clinic. The winners elegantly addressed the formulation issue by developing a liposomal carrier system that contains a cationic lipopeptide. In contrast to the free enzyme, this system is able to overcome the cellular barrier and reach the interior of enzyme-deficient keratinocytes. Encapsulated rhTH1 was shown to normalize the ARCI phenotype in a skin-humanized mouse model, thus demonstrating conceptual feasibility of the treatment. The advanced status of this drug candidate is also evident from the fact that it received orphan drug status.
---
2014
The prize Leibniz Drug of the Year 2014 was awarded to the team from the Leibniz Institute for Natural Product Research and Infection Biology Hans Knöll Institute (HKI) in Jena: Swantje Behnken, Thorger Lincke, Florian Kloss and Keishi Ishida from the group of Christian Hertweck. They developed a new substance class of Closthioamide which was biosyntheticaly induced and isolated from the anaerobic bacterial strain  Clostridium cellulolyticum isoliert, as well as chemicaly synthesized. The new compound exhibited antibacterial activity against problematic germs as MRSA.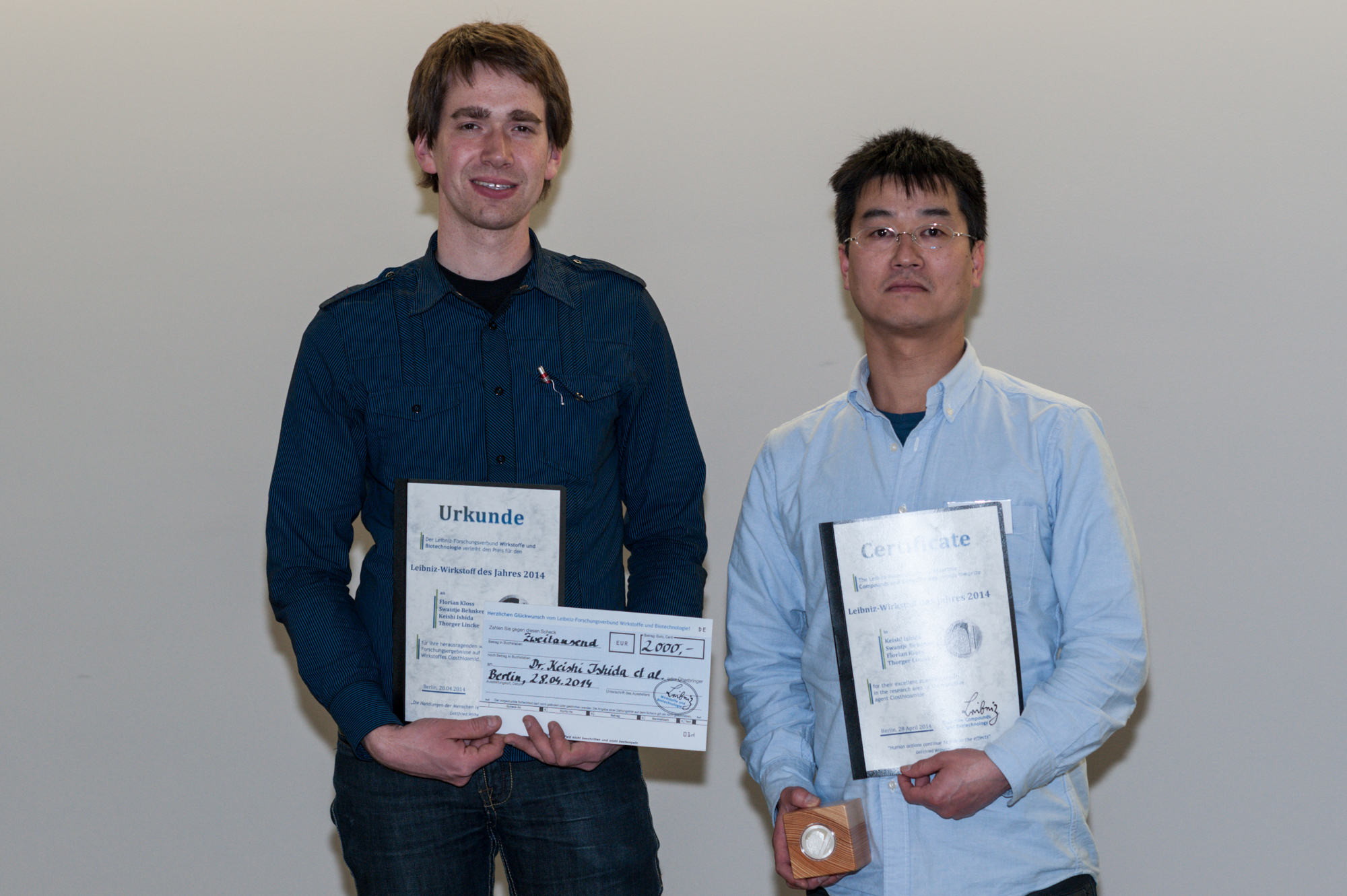 ---
Disclaimer:
Die Preise werden vom Leibniz-Forschungsverbund Wirkstoffe und Biotechnologie ausgegeben, verantwortliche Ansprechperson ist der Koordinator/die Koordinatorin, ersatzweise der/die Sprecher/in des Verbundes. Über die Preisvergabe entscheidet ein vom Verbund bestimmtes Komitee. Bei Nichtannahme oder bei der Preisvergabe widersprechenden Erkenntnissen wird zunächst der nachfolgende Vorschlag berücksichtigt. Das Preisgeld wird an den/die verantwortlichen Seniorwissenschaftler/in der preiswürdigen Erfindung vergeben, ersatzweise an den/die Direktor/in des verantwortlichen Instituts, welche/r über die angemessene und beitragsbezogene Verwendung intern frei entscheidet. Dem/der Koordinator/in ist vom Seniorwissenschaftler/in bis Ende des Preisjahres ein Verwendungsschema mit Überweisungsinformationen zu übermitteln. Die minimale Splittung ist € 100,-. Es besteht kein Rechtsanspruch auf den Erhalt des Preises oder des Preisgeldes. Die Entscheidungen sind nicht anfechtbar, der Rechtsweg ist ausgeschlossen.