Prizes
Leibniz Research Alliance Bioactive Compounds and Biotechnology established two type of awards:
Leibniz Drug of the Year
Research Award of the Leibniz Alliance "Bioactives and Biotechnology"
---
The Leibniz Drug of the Year will be awarded by the Research Alliance Bioactive Compounds and Biotechnology to honor important research activities in the field of bioactive agents, i.e.:
A promising new chemical structure or target
Special and new aspects or applications of known bioactive agents
New procedures of (biotechnological) isolation or production of bioactives
The prize winner(s) will receive a medal, a certificate and 2.000 Euro prize money. The laureate(s) will be invited to the next alliance's conference "Wirkstofftage" to present their work.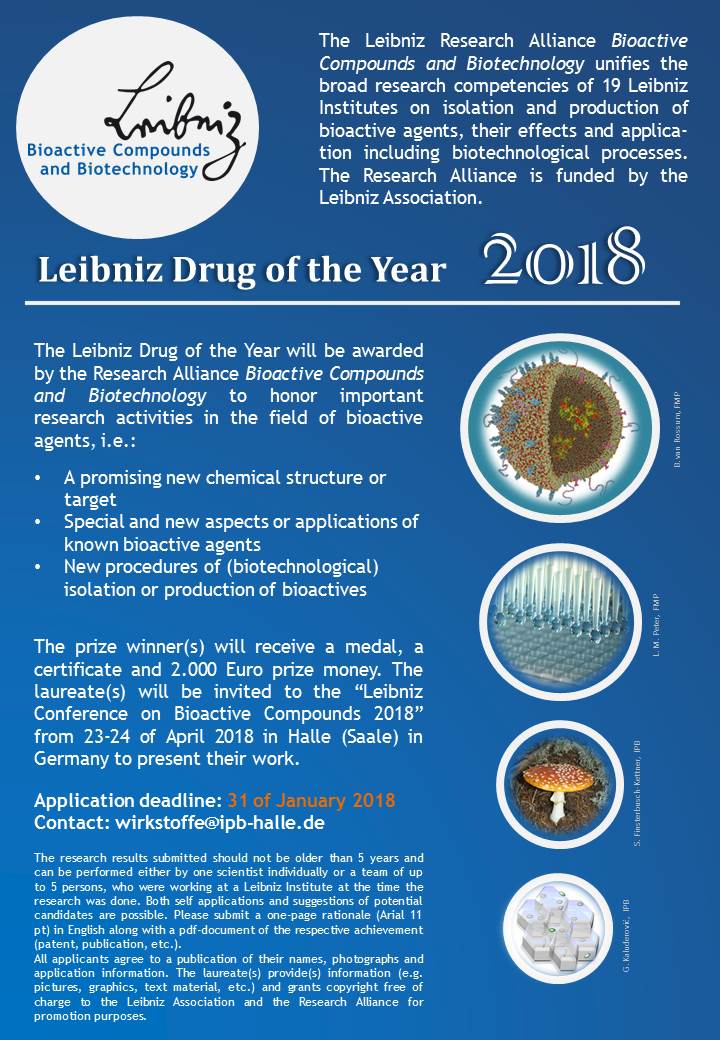 Announcement Leibniz Drug of the Year 2018
---
The Research Award of the Leibniz Alliance "Bioactives and Biotechnology" award honors outstanding scientific personalities active in a research topic covered by the Alliance. A formal connection or cooperation with a member of the Leibniz Association or the Alliance is not required but valued. The prize includes € 2,000 prize money, a Leibniz medal, a certificate, and an invitation to the next conference "Wirkstofftage" covering travel expenses.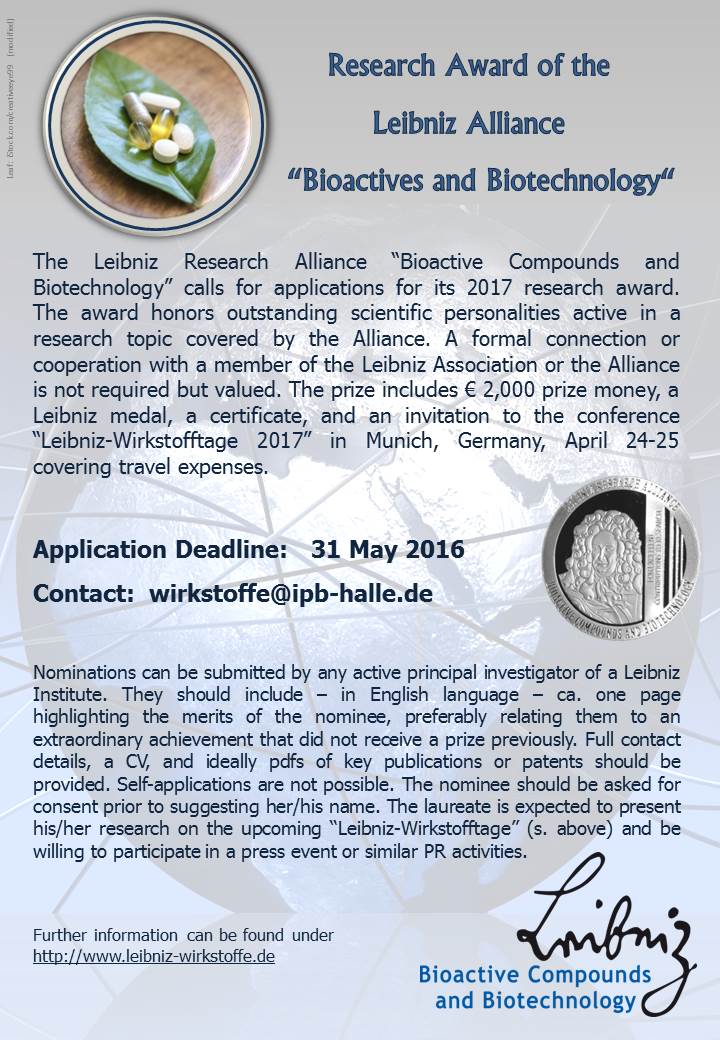 Announcement Research Award 2017
---
Disclaimer:
Die Preise werden vom Leibniz-Forschungsverbund Wirkstoffe und Biotechnologie ausgegeben, verantwortliche Ansprechperson ist der Koordinator/die Koordinatorin, ersatzweise der/die Sprecher/in des Verbundes. Über die Preisvergabe entscheidet ein vom Verbund bestimmtes Komitee. Bei Nichtannahme oder bei der Preisvergabe widersprechenden Erkenntnissen wird zunächst der nachfolgende Vorschlag berücksichtigt. Das Preisgeld wird an den/die verantwortlichen Seniorwissenschaftler/in der preiswürdigen Erfindung vergeben, ersatzweise an den/die Direktor/in des verantwortlichen Instituts, welche/r über die angemessene und beitragsbezogene Verwendung intern frei entscheidet. Dem/der Koordinator/in ist vom Seniorwissenschaftler/in bis Ende des Preisjahres ein Verwendungsschema mit Überweisungsinformationen zu übermitteln. Die minimale Splittung ist € 100,-. Es besteht kein Rechtsanspruch auf den Erhalt des Preises oder des Preisgeldes. Die Entscheidungen sind nicht anfechtbar, der Rechtsweg ist ausgeschlossen.